Rapid7, Inc. today announced the release of its latest Vulnerability Intelligence Report examining 50 of the most notable security vulnerabilities and high-impact cyberattacks in 2022.
The Rapid7 2022 Vulnerability Intelligence Report highlights exploitation trends, explores attacker use cases, and offers a framework for understanding new security threats as they arise.
A significant finding from the report is that attackers are developing and deploying exploits faster than ever; 56% of the vulnerabilities in this report were exploited within seven days of public disclosure — a 12% rise over 2021 and an 87% rise over 2020. In 2022, the median time to exploitation was just one day.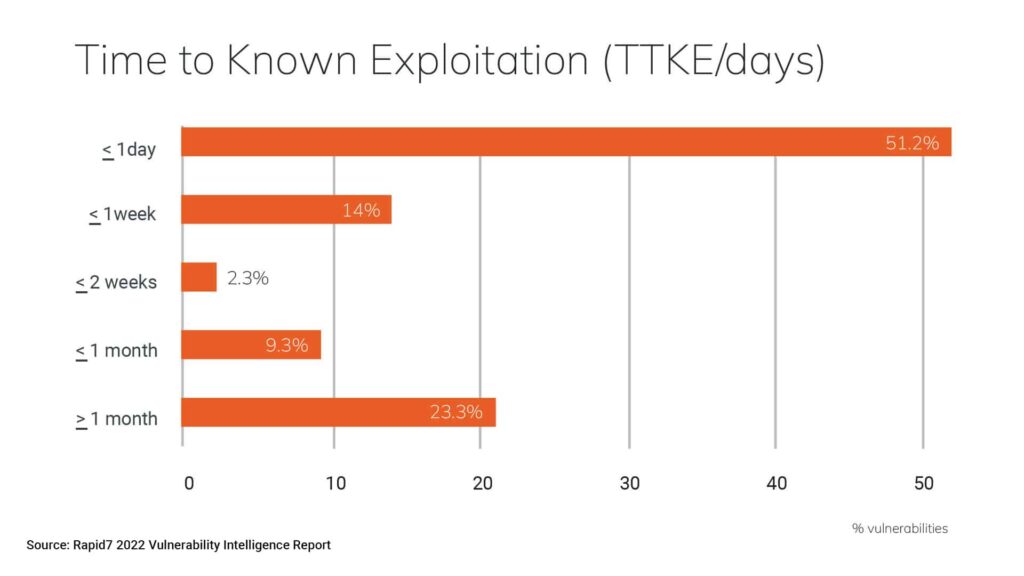 The Rapid7 report also notes a 33% decrease between 2021 and 2022 in the number of vulnerabilities that were exploited to carry out ransomware attacks. According to Condon, this decrease may indicate that ransomware operations have become less reliant on new vulnerabilities, but it may also be caused by other factors, including lower reporting of ransomware incidents.
"Rapid7's team of vulnerability researchers work around the clock to thoroughly investigate and provide critical context into emergent threats," said Caitlin Condon, Rapid7 vulnerability research manager and lead Vulnerability Intelligence Report author. "We produce the annual Vulnerability Intelligence Report to help organisations understand attack trends and proactively address both the unique and shared threats they face."The ransomware ecosystem and the cybercrime economy have continued to mature and evolve," said Condon. "We saw many more ransomware families actively compromising organizations in 2022, which naturally creates challenges for threat tracking and reporting."
Security, IT, and other teams tasked with vulnerability management and risk reduction operate in high-urgency, high-stakes environments where informed decision-making hinges on the ability to quickly separate signal from noise. When a new potential threat emerges, information security professionals often find themselves needing to translate vague descriptions and untested research artifacts into actionable intelligence for their own particular risk models. Rapid7 is known for its ongoing research initiatives that keep its customers and the broader business community safer.
To access the complete Rapid7 2022 Vulnerability Intelligence Report click here.
Rapid7 Boardroom Takeaways – Vulnerability Intelligence Report
About Rapid7
Rapid7, Inc. (NASDAQ: RPD) is on a mission to create a safer digital world by making cybersecurity simpler and more accessible. We empower security professionals to manage a modern attack surface through our best-in-class technology, leading-edge research, and broad, strategic expertise. Rapid7's comprehensive security solutions help more than 10,000 global customers unite cloud risk management and threat detection to reduce attack surfaces and eliminate threats with speed and precision. For more information, visit our website, check out our blog, or follow us on LinkedIn or Twitter.